HOME >> PRODUCTS >> MIG/MAG WELDERS >> MIG/STICK ııı SERIES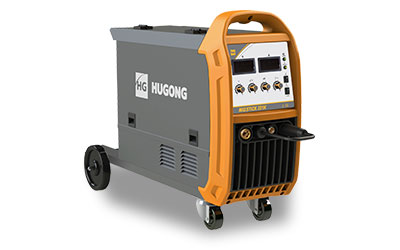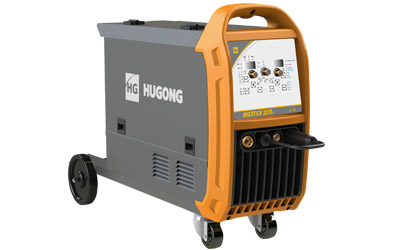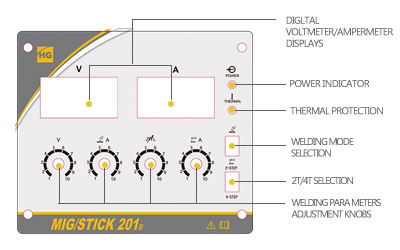 MIG/STICK 250Dııı/251Dııı
On-wheels Multi-Process Inverter Welder .
Single Phase (230 V) / 3 Phase (400V) .
High duty cycle and welding capacity.

sales@hugong.com

0086-21-51211666
• On-wheels Multi-Process Inverter Welder
• Multiple Process with MIG ( GMAW) and MMA ( SMAW)
• New Generation advanced IGBT Inverter Technology
• Industrial type, compact with heavy duty ;easy to move.
• Built-in 4 Roll wire feeder unit.
• Ideal for welding of carbon steels, low-alloy steels, stainless steels and aluminum
• Excellent welding with steel, stainless steel, aluminium and flux cored wires
• Digital welding current and voltage display.
• Equipped with voltage protection and thermal protection
• Power and overload LED indicators
• Stepless wire feeding speed ,voltage and inductance adjustment knob for MIG ( GMAW)
• Built-in anti-sticking, hot start and stepless welding current adjustment knob for MMA welding
• Welding mode and 2T/4T selection switch
• Easy welding cable connections with European type quick connectors.
• Fan cooling system
• IP21S Protection Class.
• Small ,Compact and patented design
| | | | |
| --- | --- | --- | --- |
| Model | MIG STICK 201DIII | MIG/STICK250DIII | MIG/STICK251DIII |
| Product Pictures | | | |
| Input Power (V) | 230 | 400 | 230 |
| Rated Input Current (A) | 39.5 | 14 | 45 |
| Rated Input Capacity (kVA) | 9.1 | 5.6 | 10.4 |
| Rated Open Circuit Voltage(V) | 55 | 55 | 55 |
| Welding Current Adjustment Range(A) | MIG30-200/MMA30-200 | MIG50-200/MMA30-250 | MIG50-250/MMA30-200 |
| Rated Output(A) (20℃) / (40℃) | 80%60%@200 | 80%60%@250 | 80%60%@250 |
| Weight (kg) | 52 | 52 | 52 |
| LxWxH (mm) | 990x495x720 | 990x495x720 | 990x495x720 |